Featured News - Current News - Archived News - News Categories
Special Events Keep It Fresh
by system
Wed, Nov 9th 2016 03:30 pm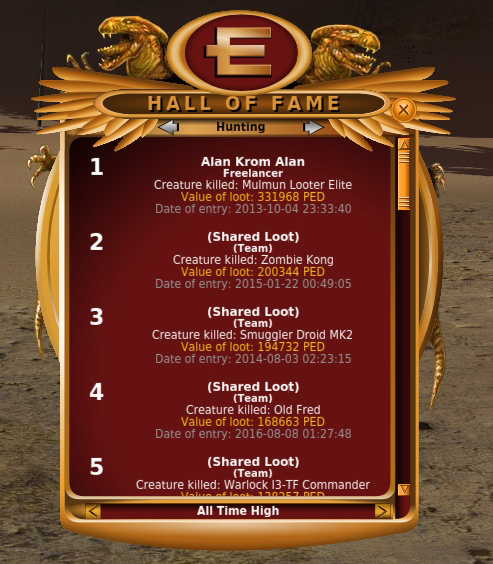 Do you get bored playing the same old game with the same old levels? Are you tired of repetitive games that once you figure out what to do offer no challenge or stimulation? If you are looking for an open-ended game that has regular special events you should explore Entropia Universe.
Mindark, the developer of Entropia Universe, has several regular scheduled events throughout the year that players look forward to. Mindark may often offer special challenges that may only last a couple days as well. Often these special events, whether long term or short term, offer exclusive rewards or loot that a player has a chance of getting just by participating. Other events offer prizes a player or a team can earn by acquiring points or completing specific actions.
Popular regular Mindark events include Summer Migration, Merry Mayhem,
Halloween Mayhem
, and Robot Wars. The annual summer migration of the
Longtooth
and Eomon is perhaps the most popular regular event. Players have hit very large jackpot type loots called All Time Highs. . These large all-time-high loots can be cashed out to become tens of thousands of real US dollars. Each event may offer special event loot items, sometimes mission chains to earn more skills or rewards, or even event ranking rewards.
If those regular events conducted by Mindark are not enough to keep you busy, land owners and planet owners can create their own events as well. Some landowners offer hunts that last a specific time and immediate rewards are given to the highest ranking players. While other land owners or groups offer longer missions that often require a player to register and track their progress off Entropia using a tracking system that takes screen shots of the player.
Of course, if you are not interested in participating in any event you are not required to. You can pick and choose events that interest you.
Are you ready to see what exciting challenges are coming up next? Open your free account
here
.